Bergen-Cohen Reunion Seminar -- Las Vegas, June, 2010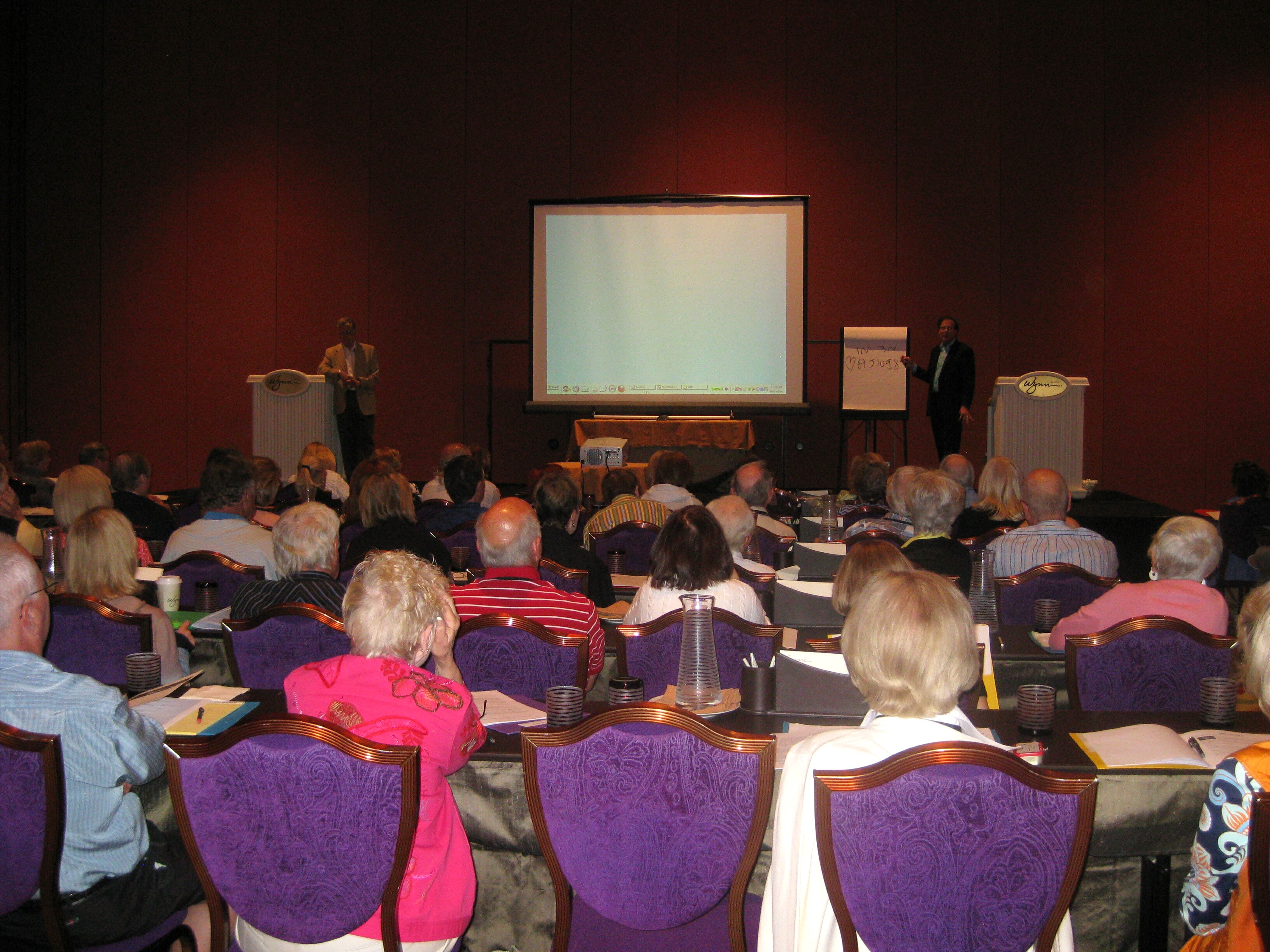 The Wynn Las Vegas proved to be a popular venue for our reunion seminar. Our partnership ended in the 1980's (with 7 National championships), but 3 decades later, we decided to reunite in Las Vegas. Our 3-day seminar was attended by 141 people, who had a great time (see comments below).
We taught separate 1-hour lectures each morning (one intermediate, one higher), but then united on stage for 2-hours of story-telling, laughing, and yes, teaching bridge. We also did a live bidding exhibition each day (trying not to look too silly).
After each lunch, we played in the duplicate game, managing to get to play with or against everyone in attendance.
Will there be an encore performance? Yes--click here for details of the 2011 event.

Video Clip from Bergen-Cohen Seminar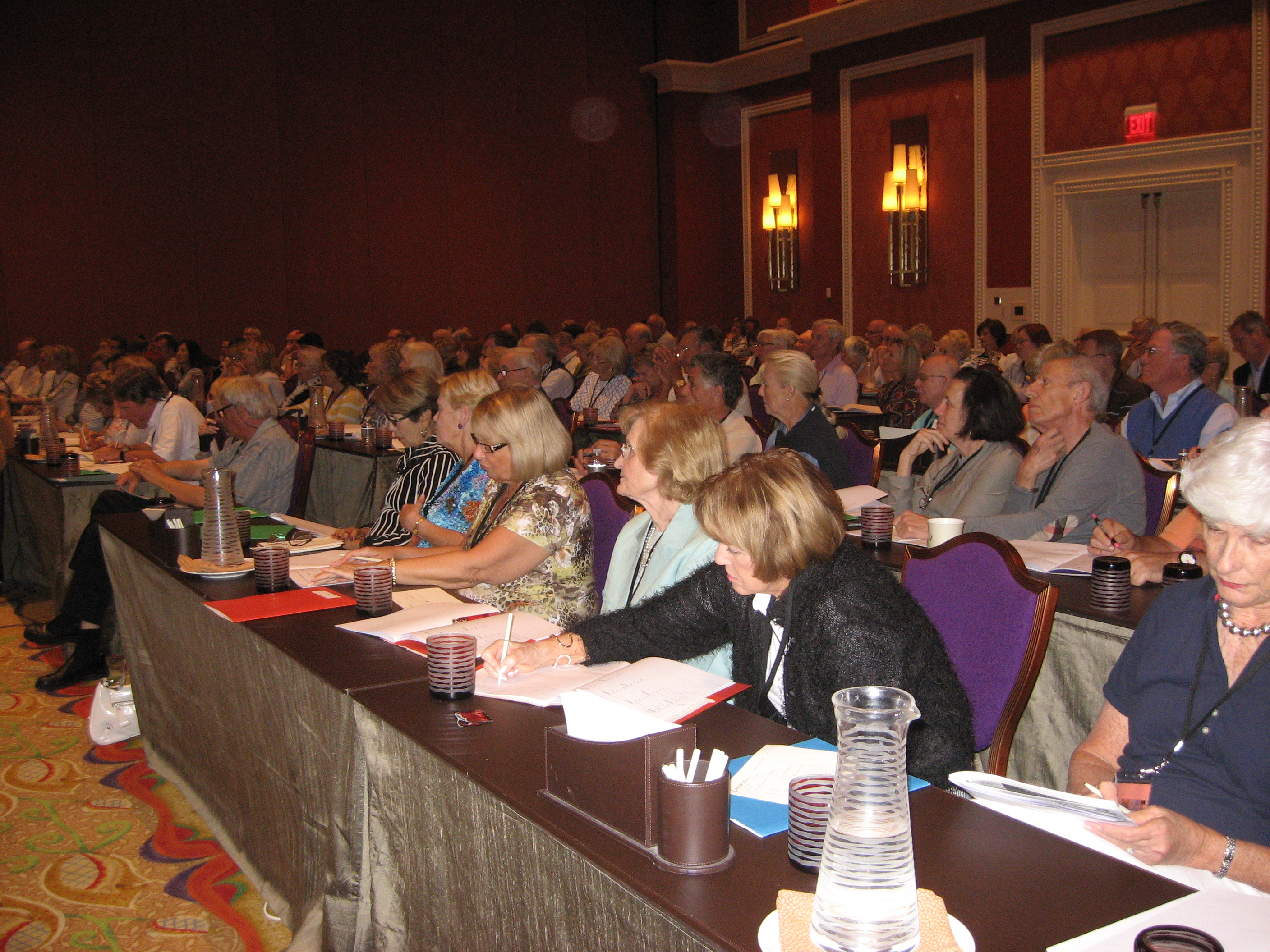 Comments from the happy campers:
From H & J (Florida) : J and i loved the Bergen-Cohen(alphabetical order!) seminar. Thank you so much for the fun, comical, informative time. You accomplished making it worth while for 2 very different levels.

From J.J. (California) Just a note to let you know again how much all of my students (and myself) enjoyed your seminar. You and Marty compliment each other so very well. It was a wonderful experience for all of us. Regards, J. J.


From L & M (Florida) : A belated thank you for a wonderful 3 days. What could be better than learning to play better bridge and having fun.M and I loved everything, the hotel, our room, the bridge lectures and the meals. We were so impressed by the way everything was organized and ran so smoothly. No glitches that we could see.We can only imagine the work and effort that went in to planning this event.Again our heartfelt thanks. Can't wait for the next one !!

From K (Florida): I had such a great time in Las Vegas and send thanks to you and Marty. The lessons were fabulous, the duplicate lots of fun and we all just loved the Wynn. It seemed to me that all the participants felt the same. It was such fun and I certainly hope you will do it again next year. Sign me up!

From J (Florida): THANK YOU FOR A MOST ENJOYABLE 4 DAYS OF BRIDGE AND YOUR CHOICE OF ONE OF THE BEST HOTELS I EVER STAYED AT...THE WYNN HOTEL IS LIKE A FAIRY LAND. THE BEST IN LAS VEGAS...IT WAS A PLEASURE MEETING YOU AND MARTY BERGEN..YOU RAN A GREAT VACATION STAY.

From P & R (California) My bridge partner and I thoroughly enjoyed every minute of your seminar—our only disappointment was that we didn't play better—I have been playing duplicate for 15 months and maybe I expect too much—who knows. Anyway thanks to you and to Marty for a great time—first time I have ever sat on hotel chairs for more than 15 minutes and not wished I was somewhere else.

From J (California) : The seminar was well organized and a great treat to hear you both give your valuable tips and fun stories. I'm so very glad I got to come to the event and hope you can both do it again sometime!


From C & J (California): My wife and I talked about how great the Bergen-Cohen Reunion was all the way on our drive back from Las Vegas to LA. We are so happy that you and Marty decided to put on the seminar and that we were able to attend. We learned so much. Now we hope that we can put into practice what the two of you taught us! It was a thrill to play with and against you.


From L (California) : How can I tell you how fabulous the Reunion Seminar was? You didn't miss a trick. Everything was beautifully organized and smoothly run. The hotel is the BEST venue ever, and the food was really good. The seminars were fun, easy to follow and I'm sure all came away having learned many things. I did for sure. You are the best teacher!! It was so much fun -- everyone wants to do it again. That's the mark of a success.

From A & F (Florida) : What a wonderful time you created for all of us bridge students in Las Vegas. Thank you for it all...your gifted teaching ability, your organizational skills. We had a ball and appreciate your huge effort to make the four days such a huge success as well we treasure you as a teacher in our lives. You and Marty are great teaching together, playing off one another. Everyone loved the two of you bidding hands drawing on your old partnership agreement and arriving at the correct bid. Please continue sharing your knowledge with us, be patient and maybe a small percent will stick!!! Please do Las Vegas next year and we'll be there. The hotel was first class and the suites were over the top.


From M & R Australia: Just to thank you for a wonderful seminar. We loved it! You and Marty are an amazing combination; you bounce off each other and the lessons were marvelous. I loved the way you bid together and still laugh about Marty asking, "Are you on drugs?" when you did anything he disapproved of. It was terrific! I wish we lived in the US so we could go to more of your wonderful lessons and holidays.
And so many more -- sorry if yours wasn't printed here!

Additional longer clip (poor audio)